Ziggy is an Italian greyhound, called an I.G. or Iggy for short. He weighs ten pounds – or 4.5 kilos – and has very short hair. Because their hair does not keep them warm, Iggies are known for shivering and wanting to be under blankets or cuddled up in bed with their human.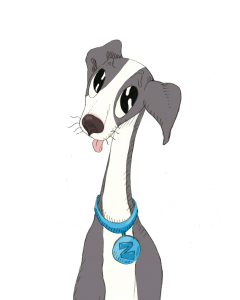 Iggies are playful and can run very fast. Given their lean, slender bodies and long legs, it is not surprising that they can run up to 40 kilometers / 25 miles per hour. Ziggy loves to run and play outside, so long as it is warm and preferably sunny.
In addition to being athletic and affectionate, Iggies are known for being both intelligent and mischievous. They will do anything to get a treat and sometimes be a little sneaky about it.
Italian greyhounds, like Ziggy and Twiggy are wonderful companion dogs that need attention and frequent exercise. They also need supervision because they are injury-prone, such as breaking a leg, by jumping or playing around.
Do you have an Iggy? I'd love to hear about your adventures with Italian greyhounds. Feel free share your story! Maybe your Iggy will be the inspiration for the next Ziggy the Iggy story.